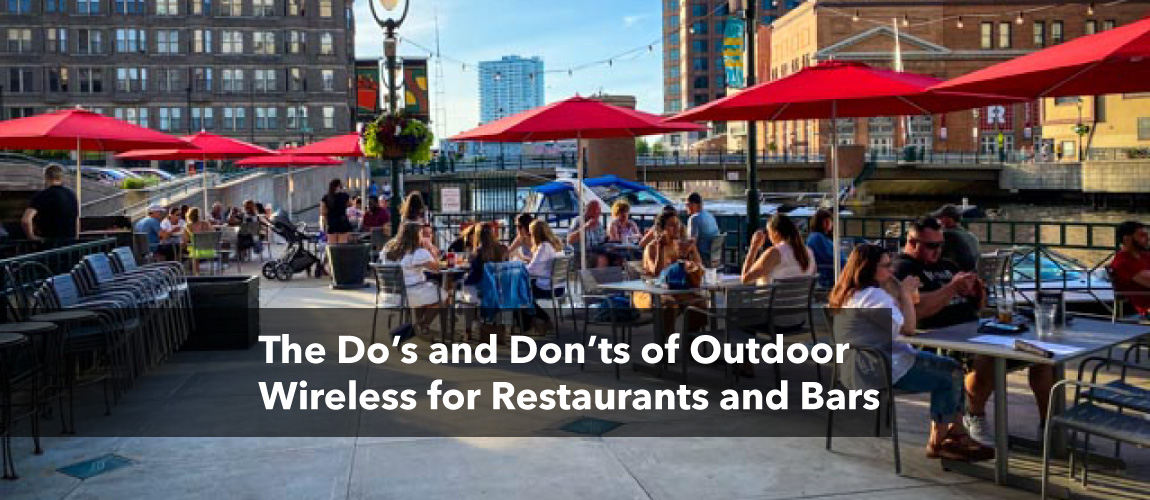 In this article, we will explore some of the challenges that restaurants, bars, and brewpubs face by extending their wireless/Wi-Fi networks to the great outdoors. It's a quick read and should give you some useful tips to help you manage this tricky IT challenge.
While COVID-19 has changed how millions of companies operate, no industry has been more visibly affected by the pandemic than the restaurant/hospitality industry. In California, restaurants, bars, and brewpubs are prohibited from offering sit-down dining unless they can do so safely outdoors. With a similar set of restrictions in place across the country, restaurants are scrambling to offer their patrons outdoor dining options. That means that operators are in a mad dash to drag their IT infrastructures outside as well.
Why we need reliable wireless/Wi-Fi in restaurants
In the past decade, restaurants have become increasingly reliant on technology to create a more enjoyable and streamlined customer experience. Wireless networks are now hosting scores of new devices, everything from handheld ordering tablets and mobile printers to electronic menus and wireless cameras. These devices need to work flawlessly with on-premise networks, otherwise, finely-tuned processes can quickly break down.
SRN has built its business by helping companies with large distributed networks (especially those in the restaurant, retail, and hospitality industries) build secure and reliable networking infrastructures. Secure wireless networks have moved from a "nice-to-have" to being absolutely mission-critical.
We've assembled a list of 6 do's and don'ts for you to consider when extending your Wi-Fi network outdoors.
Let's start with the Don'ts.
1. Don't think that you can buy an off-the-shelf access point (AP) to make this work. Popping into the local Best Buy and adding an ad-hoc wireless router to your network will not bring you long-term success.
Most consumer-grade access points connect or "mesh" to other wireless APs using the same bandwidth you need use to connect to end devices. A string of mesh APs will halve in bandwidth with each additional access point. Further degrading the network, APs will be simultaneously competing for airtime with other wireless devices on the network.
Outdoor Access Points are specially-made for outdoor commercial use — they are ruggedized, weatherproofed, and built to perform under harsh conditions. Different antenna combinations can be used, from "omnidirectional" that propagates the signal in all directions to "directional" for those applications where you need to cover a drive-through in a parking lot or a narrow patio.
But picking one isn't just a simple choice — unless you truly understand your network needs, you risk wasting money on a model that isn't ready to handle dozens of simultaneous critical conditions. Or you risk overpaying for APs that are completely overbuilt for your needs. An AP needs to work together with compatible models to provide the expected level of security and coverage.
2. Don't grab an existing AP and lean it out the window, hoping to extend your Wi-Fi range. (Yes, this happens more than you think.) Inevitably you will be creating an unreliable network with dead spots and fluctuating coverage. Most indoor AP's are designed to be mounted on ceilings. By enlisting one of your current indoor APs to carry the outdoor networking load, you'll sabotage your indoor network where critical servers and firewalls are located.
3. Don't assume that your radio frequency should remain the same. With Wi-Fi networks, operators are allowed to use 2.4 GHz or 5 GHz.
In practice, 2.4 GHz is typically the most popular frequency band because it offers the best range. And it's that popularity that causes significant problems — 2.4GHz is not only limited to three usable channels, it is also very crowded! This leads to significantly more interference and noise that operators will experience as decreased speeds, frequent disconnects, and unpredictable coverage.
There are other problems, too. When your walled-in network is opened to the outdoors, you'll face new sources of interference — including hundreds of competing Wi-Fi networks, garage door openers, baby monitors, and cordless phones. Often, a switch to 5 GHz, while requiring more APs, will lead to significantly less-congested networks with higher speeds and reliability.
(Another option has recently emerged – 6 GHz. We expect to see broader adoption of the 6 GHz frequency band as device manufacturers adopt the new Wi-Fi 6 standard.)
And now the Do's!
1. Do hire a professional. Nobody wants to incur the added expense of bringing a contractor to their site when the task seems relatively straightforward. But we are here to tell you that experience matters. There is a practiced science behind wireless network design — what works in one location may not work in another for reasons too numerous to detail. Wireless network engineers have the experience and knowledge to recommend the appropriate technology and devices.
We invite you to review the line of outdoor APs offered by HPE Aruba — you'll find a smart collection of wireless access points that are tuned to very specific applications. But I think you'll agree that even a seasoned IT professional would be hard-pressed to pick the appropriate set of devices for an outdoor dining patio without specific expertise in wireless network design.
2. Do have a wireless survey done. Of course, if you hire a professional, this will be one of the first steps he or she takes. A wireless survey will help you determine the best placement for your access points to optimize signal strength and reliability. You'll avoid weak signals and dead spots that can hurt your bottom line. It's no longer acceptable to "wing it." Today's wireless professionals have sophisticated tools that accurately measure radio signal strength throughout your targeted zones.
Finally,
3. Do use a Managed Security Service Provider (MSSP) that can provide ongoing service and support, along with continuous network optimization and proactive troubleshooting. It's not as simple as deploying a "zero-touch" access point operating with its default settings. Wireless networks need to be tuned and re-tuned as your environment and use cases change. Should problems arise, it's nice to know that you already have a partner familiar with your set-up that can take responsibility for the matter.
As always, we are here to help. Contact us if you have any questions. We are happy to answer questions and advise on managed network security services, including outdoor wireless/Wi-Fi solutions. We are able to consult on a large range of products and solutions from our partners, which includes HPE Aruba, Fortinet, Cradlepoint, Cisco, and more.